Central campus is committed to taking action
As part of the framework plan, central campus is identifying $25 million in savings. The following actions will be taken to achieve this target, many of which will have campuswide impacts:
Capital Investments:

 Over the next 4 years we will reduce the planned core fund investment in our capital program debt service by up to $5 million, equivalent to up to $80 million in capital spending. This will delay much-needed capital investments. Therefore, we are evaluating alternative funding models, including internal borrowing, to mitigate the gap.

Faculty Resources:

 Over the next few years, we will redirect up to $4 million in base resources collected centrally from faculty returns to support faculty merits and promotions. In the past the central share of the faculty resources were reinvested in new positions through programs such as the Hiring Incentive Program. Funds for some reinvestment remain, but the scale will be somewhat limited.

Space Release Program

: 

Over the next 7 years, we will reduce our use of leased administrative space in Davis, resulting in up to $4 million in ongoing savings. We will launch an incentive program for units that release space to central campus.

Realign Funding for the Cost of Utilities:

 Currently, the majority of costs associated with utilities is paid centrally with core funds. Beginning this year, we will realign at least $5 million over 5 years from core funds to central campus Finance & Administration (indirect cost) funds.

Expansion of the Research Core Facility Program (RCFP)

 and Establishment of an Equipment Management Program:

 Last year we began an effort to expand the RCFP and establish an equipment management program with the goal of greater efficiencies, cost savings, and potential new revenue. This effort is moving forward, although results are delayed due to the pandemic.

Savings from Limiting Core Fund Investments:

The budget framework assumed that the campus would make up to $4 million in ongoing core fund investments for critical priorities through the 2021-22 budget process.  However, actual core fund investments were limited to $2 million.  The remaining $2 million will be directed towards achieving the central campus Savings Target.
---
Campus units must meet individual savings targets
Beginning in fiscal year 2020-21, and phased in over a 5-year period, each campus unit will be assigned a target for ongoing core fund savings. Savings can be achieved through net revenue generation, realigning costs to other appropriate fund sources, targeted program reductions, streamlining and efficiencies. 
Units will develop plans to meet their assigned targets. One-time bridging and limited-term cost containment strategies will likely be necessary; however, savings ultimately need to be ongoing and cumulative. Plans will be assessed by the provost with input from the Budget Framework Advisory Committee for alignment with the principles and will be approved and monitored as part of the annual budget process. The process will be iterative to reflect changing circumstances and emerging opportunities. 
---
Phased approach to core fund savings targets
Beginning in 2020-21, an annual amount of $9 million in savings targets were allocated to units, growing to $45 million by 2024-25, these are the Phase I Savings Targets. Units have been asked to accelerate their efforts to achieve these targets where possible.  For fiscal year 2022-23 units identified a total of $30.7 million in savings, including $29 million ongoing and $1.7 million one-time. This exceeds the third year target amount of $27 million by almost $4 million.
A second phase of savings targets continues to be postponed while the campus refocuses our collective effort on net revenue generation and a culture of fully leveraging other allowable fund sources to support our mission and priorities. 
A Task Force to identify significant net new revenue-generating and institutional savings opportunities has been launched. Ideally, this approach will allow us to avoid additional significant unit savings targets, but such targets cannot be completely off the table until we successfully address our core fund structural deficit.
---
How savings targets were defined
In recognition of our primary teaching and research mission and strategic priorities, unit targets are disproportionately allocated to administrative activities. Savings targets, while not strictly formulaic, take into account multiple factors, including core fund base budgets, all fund expenditures, space utilization, unit net operating margin trends, and metrics such as staff and student to faculty ratios. To arrive at the final rebalancing target, a measure of judgment was applied on top of the various measures described above.
Unit leaders must strategically evaluate their activities for efficiency and efficacy, keeping in mind potential service impacts to clients. Units with recharge activities must strive to maintain recharge rates at current levels through efficiencies in how services are provided. Only in critical cases should rates be increased, subject to the review of the existing campus Service Activities Advisory Group (recharge committee).  
Resources
---
Savings target planning and review process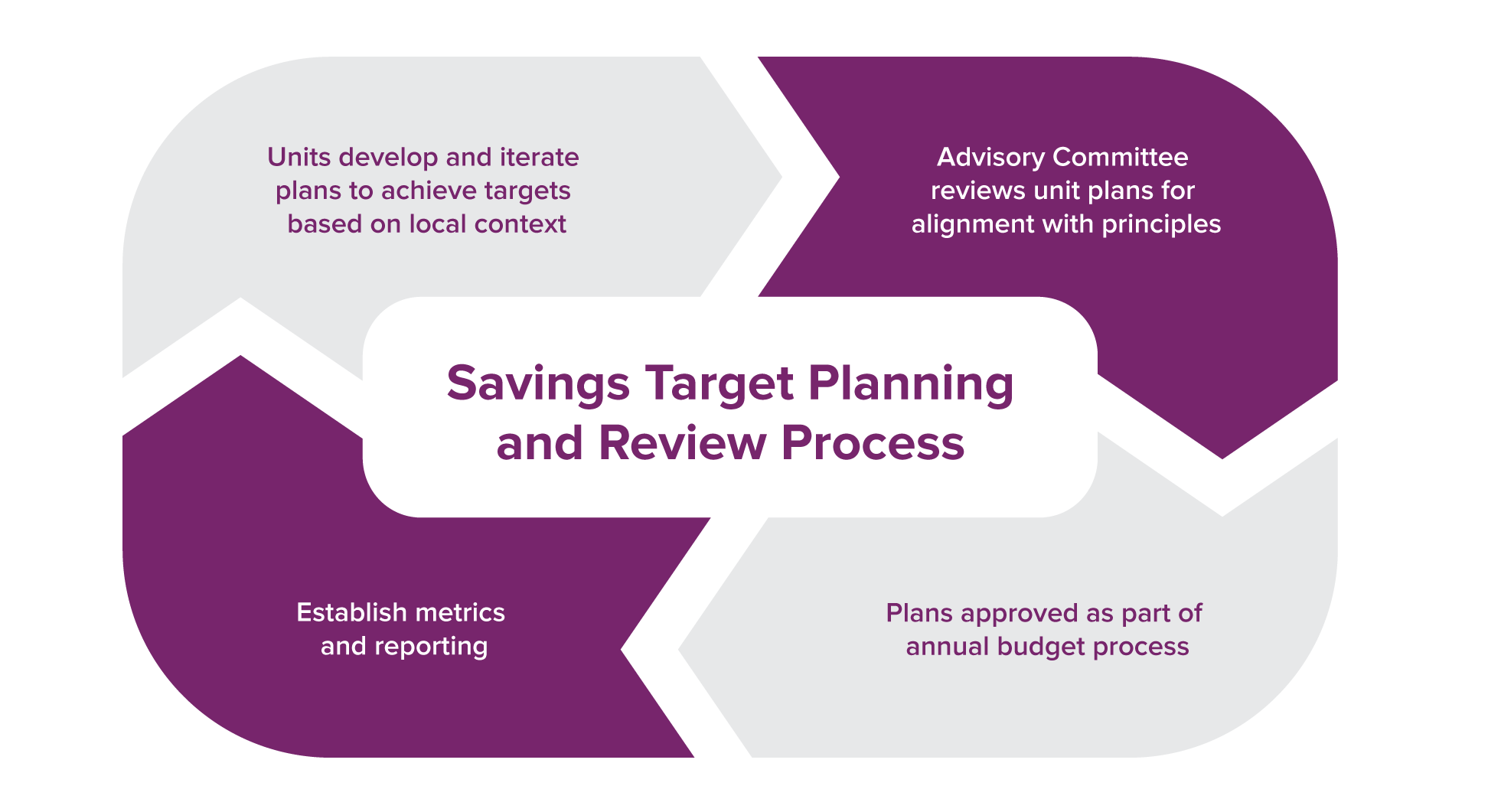 Download Graphic (PDF)
Campus supports this process through
Providing data, information and benchmarking to support unit planning.
Adjusting campus policies, guidelines and expectations to support efforts.
Sharing successes.
Developing programs and providing access to support, such as:

Lean Six Sigma training
Change management
Program evaluation